SPORTS
Think there's a LeBron James or Peyton Manning joke you haven't heard yet? Think again!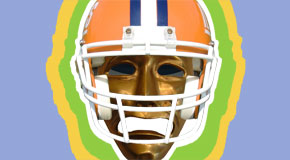 ---
ROLLING STONE

Favoritism of the SEC is a bigger epidemic than ebola, and it's all puppet-strung by ESPN's inescapable, weighted coverage of college football

MAXIM

Middle-aged men usually have to loiter around airport bathrooms to drizzle this much love on young men.



CNN

Don't be seduced by the alarming amount of arm visible during these Winter Games—these women really know how to pick up around the House!

PREMIERE

The Blind Side exposed a mild fan interest in college football movies. Time to run this genre down moviegoers' throats!

ESPN

Live, relive or unlive the 1979 and 1981 Sugar, 1985 and 1992 Fiesta and 1988 Rose Bowls in these flashbacks with the players who won them.

ROLLING STONE

Peterson's case casts a spotlight on the NFL, yet our corporal punishment laws remain in the shadows.

ROLLING STONE

Be angered by the ex-Raven's actions, but don't forget about the league's handling of violence against women.

RYOT NEWS

Urban Meyer claims to have done everything in his power to discipline Aaron Hernandez. He forgot that penalizing him playing time was within his power.

MAXIM

In lieu of any chance of attending the Super Bowl, the masses get a glimpse into the action-packed branding of its sponsors with The NFL Experience.

RYOT NEWS

If you've never made a terrible comment to a friend in jest your entire life, you might be tied for the most boring person on earth.

MAXIM

Every weekend boasts a bowl-worthy game. But in a sea of helmet-clashing awesomeness, who's to say which games rule? We are.

MAXIM

I grabbed a moment from each living member of baseball's exclusive 3,000-strikeout club. A moment neither of them will ever get back.

MAXIM

I'm no more tired of answering for college football's postseason than college basketball fans are tired of trying to change it.

MAXIM

This running start by Kermit Washington got Rudy T-boned in an infamous 1977 tilt between the Lakers and the Rockets.

MAXIM

While the acrimony shared by the Crimson Tide and the Volunteers isn't quite the same sentiment shared between the U.S. and Britain, there are striking similarities...

MAXIM

Today's professional football player is a fragile, mollycoddled, histrionic stage queen starving for attention and acceptance like a stripper in Under Armour pasties.