POLITICS
Republicrats are scattering from Jordan's fair and balanced distrubution of Dick Armey jokes.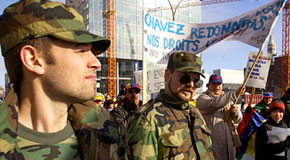 ---
RYOT NEWS

The Assad regime is gassing children and the rebels are executing prisoners for fundraising videos. Regardless of how the situation in Syria unfolds, there won't likely be any real winners.

CNN

Tourism plummeted during the Chavez years. With a wealth of natural attractions, that will change ... but not too soon.





RYOT NEWS

This kind of corporate comeuppance is rare, so savor it.

RYOT NEWS

the emergence of the modern hipster and Tea Partier have followed such similar flight paths that republicans have become little more than Thrillist editors wearing American flag pins.

RYOT NEWS

The ongoing nature of the President's friendship with rap mogul Jay-Z raises questions about the appropriateness of the Commander-in-Chief being chummy with an erstwhile crack dealer.

WHITEHOUSE.ORG

The Vice President has delivered to me a fascination report, the key points of which are as follows...




RYOT NEWS

Riddled with more holes than the wall around George Zimmerman's practice targets, Florida's "Stand Your Ground" law has protected more than a few killer-provocateurs.

MAXIM

From inane domain names to autographed books not actually written by Obama, you've never seen a more profitable socialist!



WHITEHOUSE.ORG

Remarks by the Senate Minority Leader.


MAXIM

If you're like me, you've deleted your entire Facebook friends list by now for election infractions including, but not limited to, the following…




VIDEO

---

CSTV (CBS SPORTS NETWORK)

Jordan handicaps the 2004 U.S. Presidential Campaign of the Handicapped.