Bayer
Interviews with heart disease sufferers who have used aspirin therapy to positive results for Bayer's Aspirin Cardio web site.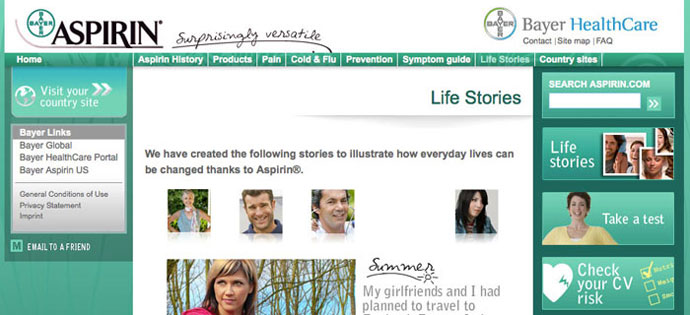 FROM RELUCTANT TO RECOVERING
Name: Chi Ching
Age: 71
Location: Hong Kong
Topic: Triple bypass survivor
Retirement for Chi Ching, then 65, wouldn't be rich, but it would be rewarding. After 40 years in the food service industry, the husband and father of three resolved to focus on his health by indulging his love of hiking.
"Sometimes, I would hike for six to seven hours," says Chi Ching. "I hiked for almost two years. I felt fine. I didn't think I had any problems at all."
Unfortunately, his optimism would combine with a trademark stubbornness that nearly proved perilous. While on one of his routine walks, he registered "something gnawing here and there." Turns out that "something" was three arteries, each 80 percent clogged and screaming for treatment. With each subsequent hike, the attacks would become more frequent, the pains increasingly severe. But the former dim sum restaurant manager dismissed the often intense pain, vowing after each episode to see a doctor "next time."
"He's very wan loot (obstinate)," says his wife, Lau Sheung, 65. "He never told me it was so serious."
Chi Ching's arteries would be ignored only so long. After a night out to dinner ended in acute chest pains and a trip to the emergency room, Chi Ching was told by his specialist, Dr. Randolph Wong, that he had come just in time and required bypass surgery. Still, he demurred.
"I thought, 'Whatever,' recounts Chi Ching. "'I'm already 70. If it's meant to be, it's meant to be.'"
But his wife not so gently reminded him that his wasn't the only say in the matter.
"'It's not you who's sick, it's me!'" Lau Sheung recalls telling her husband. "He wanted to give up. When I saw him like that, I felt helpless."
Chi Ching wasn't the only force working against his own wellbeing. With both he and Lau Sheung retired without income, the uncertainty of how they would pay for such a procedure was as formidable as its recipient's reluctance to undergo it. Initially, the couple had hoped to borrow money from friends and relatives. But ultimately, it was the nurses of Hong Kong's Prince of Wales Hospital themselves who helped the two shore up their finances. Chi Ching eventually relented, undergoing the procedure that would save his life. Several years later, the one time cynic now sings a very different tune.
"You must listen to your doctor!" exhorts Chi Ching. "Dr. Wong gave me life."
The good doctor also gave Chi Ching a regimen of medications, including aspirin, that has become almost part of his autonomic senses.
"I think Aspirin has helped my arteries immensely," says Chi Ching. "I can now go everywhere. Sometimes I'll forget to take other medication, like my cholesterol pills. But I never, ever forget to take my aspirin."
"It was so hard to persuade him," remembers Lau Sheung. "Now he has his life back and he really treasures it. We're very grateful that we're able to prolong our lives with the current medical system and technology. These are our heartfelt words."