Occupy Comic Con: We Are the 99% (Body Fat)*
My experiences following an article I wrote on attendees at New York Comic Con proves that, when it comes down to it, we really are all the same (sanctimonious asshole).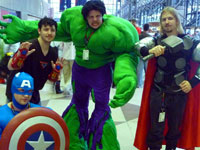 So I wrote an article for Men's Fitness about whoever at wherever and they got pissed and launched a shock-and-awe campaign of blog posts, e-mails, voicemails, Facebook groups and hyperhidrosis.
Subject: "Flabby Versions of Your Favorite Superheroes."
From:
Randy Watson <wandyratson39@yahoo.com>
To:
Jordan Burchette
In regards to your article titled, "Flabby Versions of Your Favorite Superheroes." You have no room trash-talking those kids. They are doing something they enjoy and not giving any fucks. Lighten the fuck up kid. You are certainly not someone to be critiquing the appearance of others; you yourself are nothing special. The LEAST you could do is write an article with some fragment of wit. Master of pragmatism? Guffah.
Coming from a nerd who IS in great shape, I would like to point out that while those kids aren't attractive enough to land in a fitness magazine (despite your failed attempt to humiliate them), but at least they have a passion that doesn't involve demeaning others.
If you wish to be a writer and you take your profession seriously, realize that you will go nowhere trying to build off of the failure of others; it merely sheds light on your own inadequacies.
Good Day.
Subject: RE: "Flabby Versions of Your Favorite Superheroes."
From:
Jordan Burchette
To:
Randy Watson
Wise strategy, co-opting my response before I can send it, but it's you -- and anyone else who can't laugh at himself -- whom I would encourage to "lighten up." While little of what you said made much practical sense, I understand and appreciate the spirit in which it was written. There was no attempt at humiliation, so on that point you're right: I failed to do what I never attempted. These are jokes, no different than what is posted several billion times a day online about countless people who deliberately distinguish themselves from the rest of us by their words, actions and/or attire. They can wear whatever they want, I can write whatever I want about them and you can complain about what I write; it's a beautiful thing. But you should ask yourself who really loses in that equation, because they had fun, I wrote an article that readers other than you enjoyed and all you got was mad.
I can assure you that you've been hurt by this feature far more than anyone appearing within it, which is what I'm guessing motivated your e-mail; it was your own personal experience that moved you to write me, not your concern for the attendees of Comic Con. These people don't need defending, from you or anyone else. Not that they need me to say so, but I love these guys. I say so in the intro, which I'm guessing you skipped in favor of the part of the article that satisfied your need to rage. But I ain't mad atcha. Ladies and gentlemen, put your hands together for Mr.
Rrrrrrrrrandy Wwwwwwwwwwwwatsonnnnnnnnn-ahh!!!
I'm sorry you don't find me attractive,
Jordan
---
Subject: [No subject]
From:
Hunter Bragg <tbragg106@yahoo.com>
To:
Jordan Burchette
How dare you? How DARE you take pictures of people ENJOYING themselves, and then SLANDER them like that? Just because someone goes to a ComicCon or whatever, and is a bit larger than YOUR IDEAL IMAGE, you have the right to thrash them in a NATIONAL magazine? That is not only unprofessional, it's downright meanspirited.
People like you are part of the reason I've lost faith in journalism. You're pathetic, petty, and just... You make me VERY mad. This just gives me one reason to not bother with Men's Fitness Magazine. Or any other article you write.
Petty. Pathetic. Pointless. You were not witty, you were not sly, you were not crafty. You took pictures, and you thrashed people who were having a good time.
I tell ya what, I'll take a few extra pounds of fat over insane amounts of douche ANY day of the week.
A VERY Angry Reader,
T. Hunter Bragg
Subject: [No subject]
From:
Jordan Burchette
To:
Hunter Bragg <tbragg106@yahoo.com>
I'm sorry you feel that way.
-Jordan
Subject: [No subject]
From:
Hunter Bragg <tbragg106@yahoo.com>
To:
Jordan Burchette
Gotta love it when people use that line... "I'm sorry YOU feel that way." Takes all the responsibility of their actions off of them, puts it on the offended party.
Oh, don't get me wrong, I fully understand offence cannot be given, only taken, and I DO take offence. And I assure you I'm not the only one. I'd not be surprised if you've already seen several emails like mine-probably not quite so friendly, either.
Point is, man up. Either actually say you're SORRY and MEAN it, or just stick to your guns. I may not have liked what you wrote in the article, but at least I could have respected you if you stood by your words. OR gave a real apology. Either or, it shows character.
Something you seriously lack. Somthing this whole goram WORLD seriously lacks.
You've got the power to make a difference in people, to challenge them to strive for a greater good, to be better than themselves, mate, don't you see that? THIS is why it gripes me the most! You could make a GORAM DIFFERENCE! Yet instead of building people up, you tear them down. You've sold your soul, mate.
I truly pitty you.
Subject: [No subject]
From:
Jordan Burchette
To:
Hunter Bragg <tbragg106@yahoo.com>
I haven't done anything to distance myself from what I wrote; that misapprehension is another thing you've elected to take. The good news is, either way, your respect brings me no comfort in its giving nor cold in its taking. If you would like me to cut and paste my response to the other overreacting stalker who needed desperately to connect to the "author" (you wouldn't believe how many people in social media had the same idea to place that distinction in quotes) of the article to which you took such grave offense on behalf of other people you don't know, I will. But you have to know this is pointless.
Have you never watched an episode of South Park? It's Always Sunny in Philadelphia? Tosh.0? Any stand-up comic? Presuming you have, you've laughed at jokes that were made at the expense of others -- real others. The only difference between those situations and this one is that, here, you had a personal connection to the subject matter. On a different website, these two pages would have in no way resembled the atrocity that you and others who've objected to it have characterized it as being. On Men's Fitness, however, you took it to mean that the swollen jocks were again bullying the nerds, and that's just not the case. Many people found it funny. You and many others didn't. And the cosmic ballet goes on.
We can do this as long as you want, but it's only going to make you madder and stay me further from committing my next crime against humanity. Your choice, fella. Take care…
-Jordan
Subject: [No subject]
From:
Hunter Bragg <tbragg106@yahoo.com>
To:
Jordan Burchette
I now see that you are, in fact, nothing more than a miscreant, a wart on the left asscheek of society.
I thought perhaps my words would inspire you to better yourself, but they have fallen upon deaf ears.
Also, you presume much about me. I am not a member of the ComicCon going community-never been to one, never care to go. I have no direct relation to these people. As far as South Park is concerned, there's usually an underlying moral message-you know, using satire to teach a lesson. Not just be a dick.
No response is needed-it'll just be a waste of both our times. You go on being a massive dick with penisenvy who's compensating for something (i.e. afforementioned penisenvy), and I'll go on writing people that attack others for no apparent reason, trying to bring some semblance of decency back to journalism.
Subject: [No subject]
From:
Jordan Burchette
To:
Hunter Bragg <tbragg106@yahoo.com>
No way I'm going to let you get away with saying that.
Wait, yeah I will.
Love,
Jordan
To the Facebooks!
---
Scott Gilmore
So, yeah...I guess I want to start this message off first with telling you I'm not going to degrade you or your writings like so many have on the Men's Fitness page or anything like that. I just want to have a civil interaction on what really is the issue on your articles when it comes to things like Comic-Con and the like?
I am an avid costumer (which should not be confused with cosplayer; cosplayers typically enthrall themselves in their character) whom spends many hours working and creating my costumes. I've constructed custom designs and even replicated many known characters from movies, television, video games and such. I don't do it because I am trying to "escape reality". I do it because I see the creation that starts on paper come to life and have a pulse. Also on that note, I am a US Army Infantryman currently deployed in Afghanistan. I am not in the most peak physical condition that I would like to be, but my workout regimine is quickly changing that. However, I have looked over all your recent articles about Sci-fi/Comic Book Conventions only to find you degrading the convention attendees over and over again. But what you tend to encompass your main mode of the articles on are "overweight" convention-goers. And to top that you belittle them with your condescending rhetoric and belittling commentary. I simply ask, Why? Why do you only focus on that single aspect of a genre that is flooding with many other views, characteristics, and facets?
I ask this because I want to bring to light and your attention to a group that I associate myself with. A group known in the convention realm as 300DC. A group started in 2007 by my good friends that promoted healthy dieting, natural physical fitness routines and overall healthy living; incorporated into costuming characters from Frank Miller and Zack Snyder's film: 300. We costume as Spartans. Each of our members meticulously trains every day to achieve their peak physical condition. Many of us as well are avid subscribers to Men's Fitness and Men's Health among other fitness magazines. The creators started the website, www.300dc.com with the intent to bring about a change in the costuming community. One that since its creation started with 10 people and has grown immensely to over 120 members with a staggering 30+ Spartan costumers who immerse themselves in their PT each and every day.
So again the question I have is, WHY? I simply want to know the logic behind writing articles that put down anyone? Is it because the laugh factor brings in more job opportunities for publication?
I don't like to assume what anyone's motives are with anything. So I feel compelled to go to the source to find out why? Why write so negatively about our group of enthusiasts? We do the things that we enjoy. We enjoy making our costumes. We enjoy going to large gatherings and interacting with our friends and peers. Is it so much different from P90X coaches having their annual shindig with Tony Horton? Gathering in mass socializing on a workout program they enjoy and believe in? Not in the slightest.
I really hope to receive correspondence from you and hopefully able to shed light on the subject and calm the masses on my end. We aren't out to judge anyone and maybe my level headed-ness is just what is needed to mediate between my peers harsh remarks to getting to the bottom line of things. Thank you.
Sincerely,
SGT Scott Gilmore
Jordan Burchette
Hey Scott,
I appreciate your message and the neutrality with which you wrote it. It's pretty much the only correspondence I've received that merits a response, and I've received a lot of correspondence.
I love comic conventions; I've been reading comic books for 25 years. I think costuming and cosplay is cool (at least I used to) and I don't view what I've written as judgmental or condescending. It's my opinion that those who've objected to it most rancorously on message boards, in e-mails to my personal account and in calls to my personal phone are willfully ignorant of their own hypocrisy. These people recklessly throw around terms like "cyber-bullying" and "hate speech" -- words for which what I wrote doesn't come close to qualifying -- then use the most aggressive of language and tactics to attack the offending author. What they don't recognize is that I deliberately withheld depicting anyone younger than their mid-20s. I also expressly withheld shooting anyone severely overweight. Because the object of this kind of content is the joke, not its subject; the people pictured are secondary to the text. Most of them weren't even out of shape.
Enthusiasts of other hobbies and interests recognize this, which is why content of this nature is common on popular sites throughout the internet and on television shows like "Tosh.0," "South Park" and "It's Always Sunny in Philadelphia." These are the very properties that many of the most vocal and harassing of objectors to my article routinely consume, laughing at the expense of others without any sense of shame or hypocrisy. We do it all of the time -- except when "they" come for us. Which is why you'll see, if you read more of my work, that I have spared no one, including myself, throughout the years. If my article had appeared on Cracked.com or College Humor, it wouldn't have warranted any of this. On Men's Fitness, however, it was interpreted as the swollen jocks again bullying the nerds, and that's just not the case.
In fact, one of the people who appeared in the article wrote on Men's Fitness's Facebook profile to object to the objectors. She said that they don't speak for everyone depicted in the feature and that she and her boyfriend found it funny. I don't know if this satisfies your concerns here, but I appreciate your attempt at reasoned dialogue all the same. Take care of yourself over there…
-Jordan
Scott Gilmore
Jordan,
Thank you for such a quick response. I wasn't sure if I would get a response or not with all the negative comments and responses you probably received from others, so again thank you for taking the time to respond to my message.
The side I see, and take side of, is that some of those persons pictured are friends of some of the people who were overly offended. The thing is, a lot of people that costume do know they are overweight, or that they are skinny, or they are older than the majority; but they do it anyway because it's something they love. So these friends of friends or even those persons see it as an attack on said persons.
I for one think a lot of people on the facebook page definitely overstepped the line by attacking you. And to resort to phone calls to your personal phone I agree is way over the line. But it's their way of defending themselves/their friends/our hobby. The way that I see the situation, which bear with me as I try to interpret it, is from the "offended" seeing you as the "outsider" looking into our hobby and judging people. And of course, being Men's Fitness, of course like you said, is where they get the literal Alpha Betas Vs. The Tri-Lambda Nerds comparison.
I was the nerd growing up. Throughout Junior High and High School I was in band, didn't play sports with the school (however I did outside of school in leagues), and played video games. I was your typical nerd. My senior year I started socializing more and became more of an all-around utility socialite and joined the Army. And throughout my time in the Army I always got the teasing for being a "nerd" or "dork" because a lot of my time while deployed was spent researching costumes or doing detailed sketches and designs for outfits. When they saw me overpowering them at the gym or turning a double play against them on the ball field, their remarks quickly ceased. I became an equal at that point.
But I digress with my story. That's how I feel a lot of people felt with that article though. Just another guy picking fun at the costumes/costumers. In which, yes, "South Park" and "Tosh.0" have had their fun but still the same it is picking fun at something that someone thought was "different". Like Tosh.0 and Tron-Guy. The guy liked Tron. A LOT. So much so he went on to make a costume from it. I know I get a lot of weird looks when people hear how much I invest into some of my costumes. But again, I love it. Just as much as some people love watching lean muscle topple over their body fat percentage, or someone immersing themselves in their fantasy football league. Now I however have had laughs at fellow costumers expense. I've seen costumes that are sub par in quality or someone wearing a slave Leia outfit, which by all means, should NOT have been wearing a slave Leia outfit. But as so, it's similar to the use of the N word...I can poke fun at a costumer because I am a costumer. But because I am one, doesn't mean I will.
But please take from this me not trying to scold or anything, but merely trying to let you step into the shoes of those that are making the offensive remarks in retaliation of it all. They feel attacked, which is something alot of us have dealt with for a good portion of our lives. We go to these to share our passion of the hobby, of the culture. Not to find pictures of ourselves on the internet, being made fun of by a widely distributed publication. Especially in a world were the fitness movement is taking off, what more is a deterrent for people than to be made fun of by those they look to to inspire them and teach them? Perhaps it would be a good choice to try and "make amends" so to speak, because there are a lot, which I'm sure you have seen at Comic-Con, fit and in shape costumers who do make health and fitness a big part of their lives, like me and my girlfriend and my friends. And including there are a lot of us who are subscribers to the magazine. You said you "think costuming and cosplay is cool (at least I used to)." Well, alot of people think Men's Fitness is a great magazine, or at least used to. After our correspondence here I really, truly feel you didn't mean to come off as the "bullying jock" at all. However lots of people still do and I just truly hope that they have the chance to see the truth in that as well.
Thanks for the well wishes for my safety here, and I hope this message finds you well.
Sincerely,
SGT Scott Gilmore
Jordan Burchette
You're my new favorite dude, dude. I really do appreciate your position here; I simply know that we all -- including, and maybe even especially, those penning the most hateful reactions to my article -- have had countless laughs at the expense of others who also had friends who would immediately step to their defense. The only difference is that it affected them personally; now it's an injustice.
The difference, in my estimation, between your personal story of persecution and that of the great many of these Twitter terrorists is that you fought bullies not with spiteful rhetoric or threats to go tell their parents, but by beating them at their own game. Much like a rap rivalry that gets decided in a recording studio instead of drive-by shootings, this backlash by the cosplay lobby could have manifested itself in an equivalent article or series of articles that made fun of me or meatheads or whatever perceived element they believe motivated the article they so derided. But, instead, they took the least intellectually defensible path, becoming the very bullies they so passionately claimed to be protesting.
Again, you're a beacon of reason in a fog of astonishing small-mindedness; I spent eight years writing a college football column to which readers would reply with the most ignorant, acidic rancor you can imagine. Well, *could* imagine. Because the cosplay community of which I expected far better really disappointed here. Eh, except for you. Thanks for defending democracy…
-Jordan
---
Jillian Siu
Dear Mr. Burchette,
A few days ago I read about your article in Men's Health Magazine that essentially bashed the entirety of the cosplay fandom. I just wanted to let you know how disgusted I am at the fact that you, a grown man, still feel the need to bully people you believe to be lower than you.
It was not wrong of you to say that there are many overweight cosplayers, that much of your article is true. But I would have thought that a person of your position would know better than to take pictures of unsuspecting convention-goers, without their permission, and have them published in a magazine with such circulation as Men's Health. It was terribly rude of you to abuse your power in this way, and I can tell you the cosplay community is not happy.
You focused entirely on the bad side of the cosplay community, giving little to no mention of the hundreds of excellent cosplayers that would have been present at a convention as prestigious as New York Comic Con. I can tell you from first hand experience that there are many cosplayers that are in shape, well-adjusted, and always look their best.
As cosplayers, we know that people immediately assume we are all fat, sloppy nerds with no social skills. We have been trying relentlessly to change this image, and your article was of absolutely no help.
Thank you for reading this, and I hope you understand where I am coming from.
Sincerely, a cosplayer who is in shape and socially stable.
Jordan Burchette
I appreciate your message for its thoughtfulness and reason and civility. You certainly appear socially stable, unlike the vast multitude of respondents to the article from whom I've heard over the last week.
I would go further to say that I did not focus on the bad side of the cosplay community, because I don't believe that overweight participants represent a bad side at all. I think we're all worthy of ridicule and what's unfortunate is anyone who only half-believes that. As far as I can tell, the majority of folks within this community qualifies for the latter.
I think what you do is cool and pure and fun but, despite commentary by many cosplayers to the contrary, no other hobby so appears to allow the opinions of others to ruin their enjoyment of their pastime. I think the perceived persecution of cosplayers will stop when they no longer do.
I'm not sure how sensible my explanation was, but I hope it finds you well. Take care…
-Jordan
---
William Byron
Jordan,
They don't seem to get that this kind of reaction is just what you and your publisher probably wants. It isn't as if you're working for Readers Digest or something. Here is a minor suggestion, should this not die down. And it will be bemusing and beneficial to both sides. Simply challenge one of the cosplayers next year to some sort of sporting event/obstacle course. Say, if they can defeat you, you'll apologize. If nothing else, it brings headlines to both parties. You can have this idea for *free*, Groucho.
Sincerely,
William Byron~
Jordan Burchette
I would think you were downright sporting if I hadn't read your more acerbic comments elsewhere. The truth is that you have no idea how selective I am as a satirist because you haven't cared to read anything beyond the story of the moment. I believe we're all worthy of ridicule; what's unfortunate is anyone who only half-believes that.
Actually sincerely,
Jordan
William Byron
No, if you read my comments, you'll see that I see both sides, but yes, eventually I felt you were being sort of a bully, in that all the photos were taken rather "stealth like". I have the ability to change my mind and soften a bit. So yes, today, I thought- this is getting out of hand, and this guy clearly doesnt want to HURT people, he's just not apologetic. I am actually sincere, and I stand by all my statements. If you want to read my worthwhile comments again, go find where I initially tell people that protesting your article and trying to get you fired will not solve anything, and only serve to get them more upset.
William Byron
Sincerely and actually more athletic than you, William~
Jordan Burchette
Eh, funny.
William Byron
Yes, you got compared to Hitler and I realized the cosplayers weren't earning themselves any favors. I am downright sporting, sir. Give them something so all sides can forget it. If you guys have to give an apology, even as a blurb, it will be ridiculous. It's this PR thing. I don't like racists, but I don't think they should apologize publicly just because they were caught. You aren't sorry and I didn't say you should be. All I've said is that getting upset won't solve anything.
William Byron
Yeah... I actually read Men's Fitness, am not a Cosplayer, and still remain in the shape I was in when I was a contender in the Golden Gloves. Oh, I didn't read Maxim, tho'... sorry.
Jordan Burchette
I'm not much of a brand nationalist, so no offense taken. I sincerely believe that just about everyone has taken this article and themselves so far beyond too seriously that Hitler barely rates above the Gooch in my personal villain matrix.
However, I don't think I merit being discussed in the same stratum as racists. I'm not an "ist" of any sort. I take fair dumps on jocks and nerds alike; I spent eight years ridiculing college football fans in much the same way, but what need have these people of facts that might otherwise stay their rage?
Like I told a conscientious objector with whom I've been trading messages for the last day or so: like a rap battle that gets decided in a recording studio instead of a drive-by shooting, this backlash by the cosplay lobby could have yielded an equivalent article or series of articles that made fun of me or meatheads or whatever perceived element they believe motivated the article they so derided. But, instead, they took the least intellectually defensible path, becoming the very bullies they so passionately claimed to be protesting.
No pity parties here, simply an acknowledgement of intellectual dishonesty. Incidentally, I take all of my photos stealth-like, personally and professionally. Staged photos are an abomination.
Wholly unconcerned with how athletic anyone is,
Jordan
William Byron
And not that you have to, but what stops you from telling them what you just told me? Outside of you feeling, maybe understandably and maybe not, that you don't owe any explanation?
I share your dislike for 'ists' and 'isms', but even you realize that this is a sub-culture very used to being picked on and ridiculed. I personally have spoken out against embracing the mainstream media's useage of 'geek' to describe comic fans, etc.- the fans themselves are so gleeful in accepting it and playing up to it. But as I told you, I'm not a cosplayer. The girl I date is. (and Oh, is she in shape.) I just feel- and again, I'm noone important- there is a slight degree of mean-ness in taking hidden photos from behind. At least of *girls*, man.
I've actually read more than this article from you and didn't think you were unwitty, and I also know, if someone created an anti-William Byron group, I'd personally think it was hilarious and tell all my friends, so I wasn't sure this was causing you any grief. You've got to consider some of these people see things in very black and white terms, and aren't quick to defend themselves the way jocks and college football fans are. I just like old comic books, and am loathe to see conflict or outrage on any side.
Still a sporting fellow,
William
Good idea.
See also:
New York Comic Con: Dorks on Parade
*Copyright 2011 Eric Alt